Dawn and David Sangster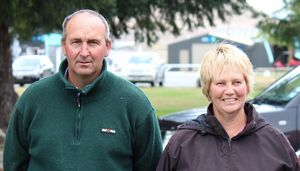 "You don't know what you don't know", would sum up our experience of putting in our first pivot.
Luckily for us we had Lyndon Taylor of Agri Planz to get it sorted.
Pivots are an expensive exercise so it is really important to get good advice because it can save you time and money. The decision to put VRI on our pivot is going to be very beneficial. We made this decision because of our varying soil types, sensitive areas such as drains and creeks within the pivot area, and the quantity of water was barely adequate for the irrigated area.
Lyndon has helped us design and set up our stock water system, a new paddock layout under the pivot, as we have developed a cell type system for intensive grazing and been instrumental in setting up our VRI system.
Using Lyndon to set up our VRI is saving us water, but during the crop and pasture development phase, is allowing us to differentiate between the different water needs of the seeds as we sow areas out.
He was able to reduce the quantity of pipe for our stock water system and now we also know the exact GPS coordinate of every trough, coupling and join in the pipelines.
We have known Lyndon for a long time and his background in the rural sector means that he produces very practical solutions for day to day farming operations.
Nothing is too much trouble, he has a good sense of humour and goes the extra mile to get a good outcome for his clients.