Lyndon Taylor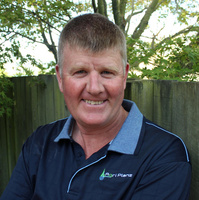 I have spent the majority of my working life involved with the land and the agricultural industry, having been brought up on a sheep and beef farm close to Gore.
After studying at Licoln College, I went on to work for MAF and Asure Quality for 17 years as a Livestock Officer then another 10+ years at the Otago Regional Council as as Senior Technical Advisor.
With changes to Regional Council water plans and new National Environmental Standards for Fresh Water, I saw a real need for a service that supplies a combination of farm mapping, farm nutrient budgeting and environmental planning to the farming community.
AgriPlanz has evolved from this need utilising skills and expertise gained in these areas.
Agri Planz uses Trimble GPS and survey equipment alongside ARC GIS software to develop very accurate farm plans and farm developmnet options around environmental planning and irrigation development.
Outside of work and alongside my wife Janice, who is a registered property valuer in Dunedin, we have 2 adult daughters that have both gone on to study at Lincoln University.
I have played competitive squash for 25 + years, enjoy boating, both salt and freshwater fishing, golf, watching sports and relaxing at our holiday home at Otematata in the Waitaki valley.