Alan Harvey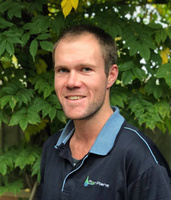 After being bought up on a North Otago sheep and beef farm and attending Waitaki Boys High School. Alan gained a Bachelor of Agricultural Science with honours from Lincoln University in 2013, focusing on both plant and soil science.
For the last four years Alan has worked as an Agronomist covering the Otago and Southland areas.This Agronomy position involved providing technical support to internal staff, external resellers, extension agronomy work, running and managing on farm trials and diagnostic agronomy. The role involved creating/ developing and maintaining relationships with farmers, as there was regular farmer visits and once off visits for an agronomy service.
Prior to moving back to Otago Alan was the North Canterbury Arable Chairman for Federated Farmers, and still maintains an involvement in federated farmers in local province. Alan has a strong connection to the agricultural sector and for the past 11 years has been heavily involved in the Young Farmers of NZ organisation. This involvement has meant Alan has run clubs, organised training events, organised district, regional and national competitions.He has participated at both district and regional levels in the Young farmer of the Year competition and one of his goals is to compete at the national final. He also has a strong community involvement as a member of Search and Rescue for the last five years.
Alan started with Agri Planz in March 2018 and has been working in the Mycoplasma response in the South Canterbury/North Otago area as a Restricted Place manager, visiting select farms and dealing with issues that arise around properties and their owners.